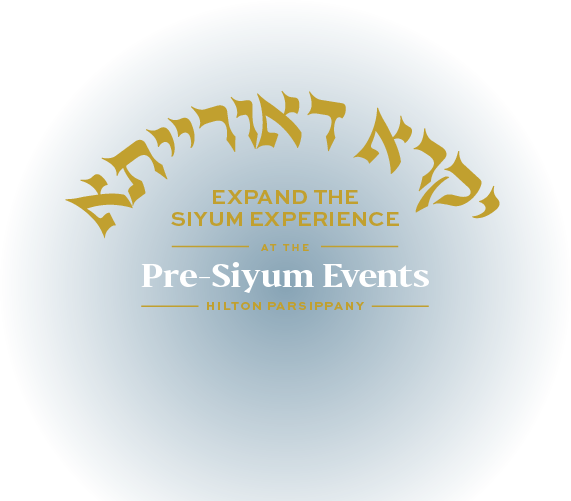 Frequently Asked Questions
CAN I HAVE AN EXTRA CHILD IN MY ROOM?

Yes. Please refer to the registration form for additional charge.
ARE THERE CRIBS AVAILABLE?

There are a limited amount of cribs available. We suggest you bring your own Pack N' Play.
ARE ADJOINING ROOMS AVAILABLE?

Please make sure to request an adjoining room when registering.
ARE THERE NO SMOKING ROOMS AVAILABLE?

The entire hotel is smoke free.
IS THERE HANDICAP ACCESS?

The Hotel provides accessible Parking, Public Areas, and Guest Rooms. When registering, make sure to request an accessible room.
IS THERE A SWIMMING POOL OR HEALTH CLUB?

Yes and Yes! Click here for details of Health Club. There will be separate swimming hours.
IS THERE A MIKVEH NEARBY?

There are several Mikvaos within a 20-minute drive. Please click here more details.
WHO IS CATERING THE PRE-SIYUM EVENTS?

Catering by Michael Shick.
IS THERE A SAFE IN MY ROOM?

Most rooms have safes installed.
WILL ANY OF THE SESSIONS BE BROADCAST?

Yes! The shiurim will all be available for viewing.
WILL THERE BE A TEA ROOM?

Yes, of course.
ARE THERE ICE MACHINES ON THE FLOOR?

Yes. There are machines on each floor and at the front desk.
ARE THERE SUITES AVAILABLE?

Please contact the office at 732-228-4458.
ARE THERE REFRIGERATORS IN THE ROOMS?

All guest rooms in the Hilton Parsippany have refrigerators. The guest rooms in the Hampton Inn do not.
DOES THE HOTEL HAVE WI-FI?

Complimentary Wi-Fi is available in all the guest rooms.
WHO ARE THE MAGGIDEI SHIUR?

Please click here for the full schedule and Maggidei Shiur.
DO I HAVE TO BRING MY OWN SEOFRIM?

All Yarchei Kallah participants will be provided with the a kuntres of all the mare mekomos (source sheets) necessary for the Yarchei Kallah.
I DON'T KNOW THE SUGYA. HOW WILL I BE ABLE TO UNDERSTAND THE HIGH LEVEL SHIURIM?

There will be a Hachana (preparatory) shiur given each day that will enable participants of all levels to learn and understand in advance of the shiurim.
DO I HAVE TO BRING MY OWN CHAVRUSA?

You can gladly bring your chavrusa but we can also assist you in finding a chavrusa. If you would like assistance, please click here.
WILL YOU BE OFFERING CONTINUING EDUCATION CREDITS?

We are pleased to be offering 14 CLE for Attorneys, 14 CPE for Accountants and 15 CEU for LNHA.
WHAT IS THE GOAL OF THE YARCHEI KALLAH PROGRAM?

To acquire in an in-depth manner the fascinating sugya of Amira L'akum and how it relates to Business Ownership and Management on Shabbos.